Shop Class Geese | Part 1
I finished my high school shop class project today...
and I'm 61 years old!
Yes, you read that right, it took me almost 44 years to complete a set of wooden geese. Procrastination has always been a struggle for me. There is always something that seems more urgent, I tell myself I produce better work when I'm under pressure, I become overwhelmed and anxious, and maybe I'm a little worried about finishing because the end product might not hold up to my expectations. Luckily I was always able to do well in school and in my career because I am deadline and quality driven. But this delay was just ridiculous.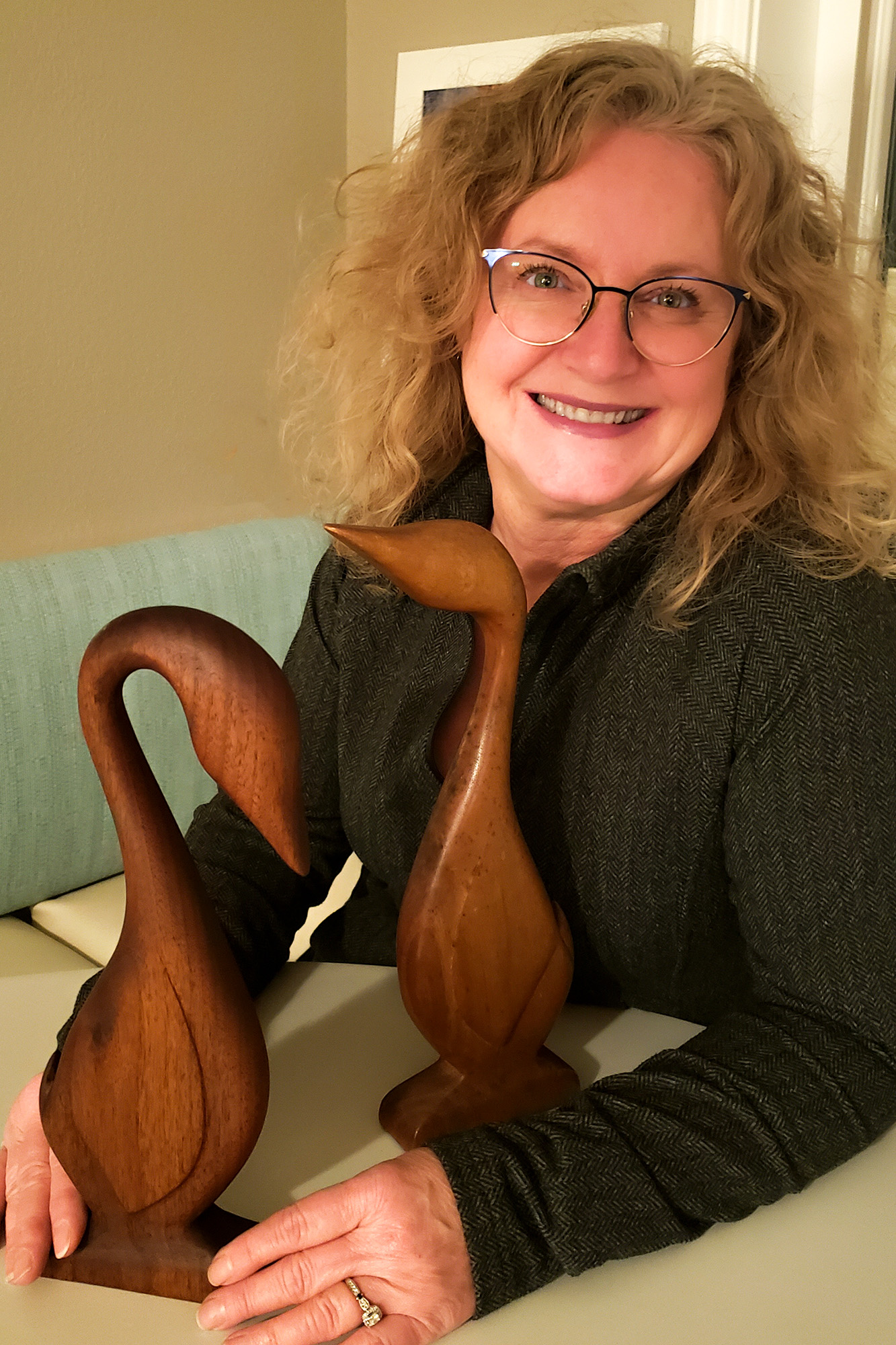 The beginning
In the spring of 1979 a few weeks before I would graduate from Quincy High School in Quincy, Michigan, I started my set of wooden geese in John Dogan's Arts & Crafts class. The best that I can remember, Mr. Dogan cut the geese out with the band saw. Then it was my turn to use a rasp for hours and hours to get the finished shape. Next, I proceeded to sand down with finer and finer grits, wetting to raise the grain, and then sand some more. I was told it wasn't ready a number of times and had to back up and do better. I believe the one goose I completed was finished with some type of oil. I might have promised Mr. Dogan I would finish the 2nd goose over the summer and since I was almost finished, I deserved a good grade. It wasn't almost finished, and the other goose lay unfinished until 2022.

The finished goose was displayed in my home throughout the years, while the second goose was packed away but never forgotten. I told myself I should finish the goose many times over the years. It wasn't until I owned my own wood shop that I buckled down and fulfilled my promise.
My 2022 Deadline
Since we now own a beautiful, well-equipped wood shop, it was just sad that my goose was hidden away, so I set a deadline of December 31, 2022. The irony of it was that I loved working on this wooden goose and can't wait to refurbish the other one. Oh and also, I made a rule that I couldn't use any power tools since I wouldn't have been able to during high school and I had to do all the work myself.
The Process of Completion
I didn't actually start working on my goose until November, because waiting is what procrastinators do. But when I got started, the hours I spent shaping the goose and giving her delicate curves and soft lines was very rewarding. I used chisels, rasps, and lots of sandpaper. I was determined to make her beautiful because after all these years she deserved it. My 18-year-old self thought the goose was looking pretty good, but my 61-year-old self knew it wasn't. I got such an amazing feeling being an artist with the ability to form my media using my vision and my tools. I stuck with my "no power tools" and "doing this all by myself" rules although my craftsman husband was a good resource for me.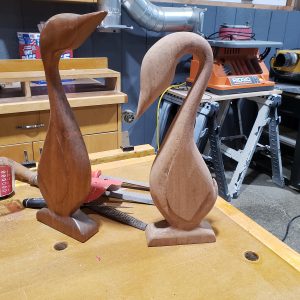 The bare wood had dried out over the years and had developed weak areas and cracks, especially on the thin neck, giving me one of my biggest challenges. I tried wood glue first, but couldn't figure out how to clamp the curved, thin neck during the glue setup. So I carefully used CA (Cyanoacrylates) glue to strengthen those spots.  I used a chisel to clean up the edges of the wings and multiple rasps to do the major shaping. Then came the sandpaper working from course to fine and many times jumping back up to course sandpaper to fix an area.  When I was satisfied at 150 grit, I raised the grain by dampening the piece and left it setting on the workbench to dry overnight. I should have taken a few extra minutes to place my goose in an out-of-the-way spot.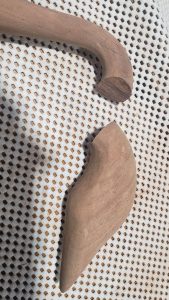 My next trip to our studio to do my final sanding was exciting because I knew I could be completely finished within a few hours. All that changed when I walked in the door; my goose had gotten bumped and tipped over on the workbench. That little fall caused the head to completely break off. It took me a couple of tries to get the head glued on correctly, and then of course there was more sanding to do before I was back at the 150-grit step. It thrilled me to move down through the finer grits and watch the wood grain become tight and smooth.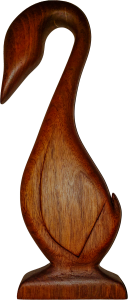 This time I didn't have a teacher telling me my piece needed more work; I had me. I wanted a piece of art I could be really proud of, so I worked to make that happen. Finally, I completed everything except for selecting and applying a finish. I chose Rubio Monocoat which is a plant-based, hardwax oil wood finish. We use this product on many of our furniture and cabinetry products because of its natural matte sheen and durable finish. I finished with a little more procrastination and then came down with Covid-19 on Christmas day preventing me from being in the studio and pushing me until the very end of 2022. I panicked on December 30th and was feeling well enough to declare that nothing would stop me from finishing on New Year's Eve day. I made it! I met my deadline and stuck with my rules.
What I learned and next steps
Acknowledging my tendency to procrastinate and being in control of it are the keys for me. This time I ended up with a better product than I would have made in 1979, but it was just plain stupid to wait all this time.
My next step in this project is to refurbish the other goose in the set. He has a few dents, wasn't done quite to my current standards, and is ready for a matching finish. I am looking forward to completing him during the month of January and I'm talking about 2023, not years from now.
Thank you to my mentors
I would like to thank my parents for raising me with a strong work ethic and starting me on a successful life journey. My dad Norm Knisely is a carpenter, loves woodworking, and strives for perfection in everything he does. My mom Pat Knisely taught me organization, encourage me in creative and artistic endeavors, and has always been supportive.
I would like to thank my QHS teachers including Mr. Dogan for pushing me to do well and teaching me skills that lead down my career path.
Finally thank you to my husband, best friend, and co-owner of Blue Earth Studio for nurturing my skills and passions. I get to spend a lot of time working alongside Jeff making really beautiful, functional art.
Please comment on this page if you remember making a project at Quincy High School or if you still have any of the projects you made during school.